7 things we're still talking about from Boston Calling weekend Live
Boston Calling took over City Hall Plaza for a two-day music festival on Sept 7-8 with Vampire Weekend and Passion Pit headlining each respective night.

Boston.com was on the front lines

at the festival and less than 24 hours later, freshly sunburned and just recovering from the ringing in our ears, we rounded up the seven things we're still talking about from this weekend.

Here's a visual representation of them, via our social accounts and Tweets from the area.
Can you think of something we've missed? Tweet it at us @BostonAE using hashtag #BostonCalling.
For some of us, t

he lineup for participating food trucks and restaurants for the festival was nearly just as exciting as the bands themselves.

At times, the lines stretched as far as the eye could see but for the most part, food was fast, easy, and reasonably priced.

The beer gardens

weren't so shabby either.
We don't need a smoke machine, we have
@TastyBurgerUSA
!
#bostoncalling
pic.
twitter.
com/RXurN40HyE
The line for
@TastyBurgerUSA
at
@Boston_Calling
is about 100 deep.
#bostoncalling
pic.
twitter.
com/lPcmAUecUB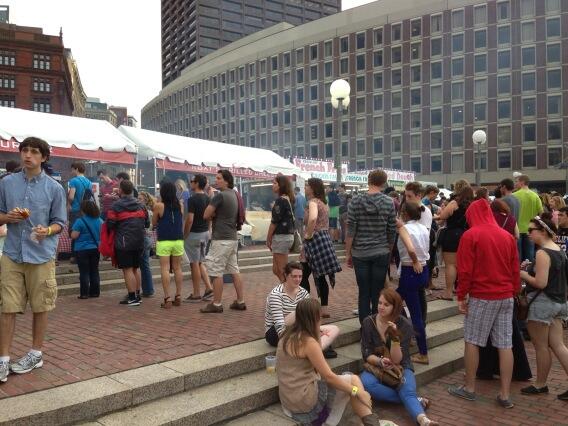 Beer garden at
#bostoncalling
w/
@amiralani
@ Boston Calling Music Festival 2013
instagram.com/p/eA9gyeKX0y/
2.

Headlining night one: Vampire Weekend.

And w

i

th a handful of songs that blatantly call out the city of Boston and surrounding area, it only felt appropriate that

the band's set list

include all of them.

And that it did.

And that it certainly did.
Vampire Weekend - Boston Calling 2013 setlist (via oieur) -California English is back on the setlist!
tmblr.co/ZoylrwuSnSxN
Up front:
@vampireweekend
by
@mikediskin
pic.
twitter.
com/AKMyu4HFy4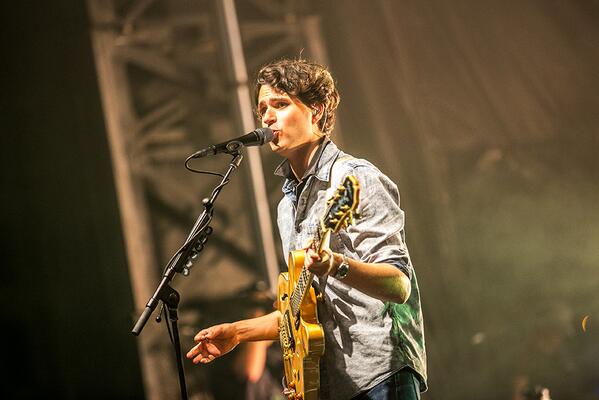 3.

And the most stylish ladies of Boston Calling were.

.

.

Natasha Khan of

Bat for Lashes and Solange Knowles both rocked the Red Stage on their respective days and both walked away as our official style crushes of the weekend.

Festival style doesn't have to be all cut-off's and crop tops, ladies.

Keep it classy.
Straight up too cute not to post.
@solangeknowles
#bostoncalling
instagram.com/p/eBNl5AMo13/
@Bat_for_Lashes
Natasha, your
#outfit
was
#fantastical
!!! Thank you for a great
#performance
at
#bostoncalling
:)
pic.
twitter.
com/stc5NPvbKB
There was a sign language interpreter stationed in front of each stage.

Lyrically speaking, it wasn't always a walk in the politically correct park.

Day one: easy peasy.

Day two: we imagine it got awkward.
Kendrick Lamar and his sign language interpreter kil-lin it.
#bostoncalling
pic.
twitter.
com/eOb2toQ8RF
Sign-language interpreters for every band. Well done,
#bostoncalling
.
Well done.
5.

Just when you thought you were safe: Twerking happened.
Congrats all, we got through a Twerk-free Saturday today.
Tomorrow might be another story, however.
Kids these days
#bostoncalling
#flostradomus
instagram.com/p/eA1A2qNR7D/
MAC TRUCK TWERK
@WICVH
#bostoncalling
@diplo
pic.
twitter.
com/OlglmndAm9
6.

There was no rest stop for Kendrick Lamar.
Kendrick Lamar !
@Boston_Calling
@kendricklamar
pic.
twitter.
com/pFROtaOsFt
7.

Passion Pit solidified their status has a Boston band and dedicated their set to the late Boston Phoenix and

WFNX

.

The band, who attended Emerson College and Berklee when formed,

won Best Local Act

from the now defunct pub back in 2009.
shut it down,
@passionpit
! 💕🙌
#BOSTONCALLING
@therealnicki_k
@johnzahr
pic.
twitter.
com/LHCo2nWHIv
Powered by Platform for Live Reporting, Events, and Social Engagement